Published on 26/09/17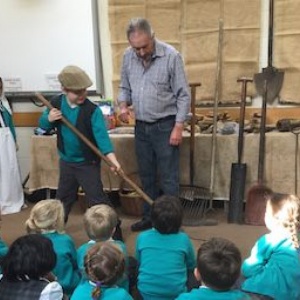 Term begin for our older children with a visit to Ely Museum for the Feast of Fenland as part of our 'Food, Glorious Food' topic.
Here are the reflections of a Year 2 pupil on the day in Ely.
"We went to Ely museum. We went on a coach. First when we got there we sorted ingredients into two groups then we had singing. We sang songs about birds and horses. Then we had our snack. After our snack we bought some yummy vegetables. I bought some Swiss chard and some squash. Then we did some food tasting. First we tasted fennel and celeriac. Then we tasted vegetable crisps. I liked the parsnip ones. Next we tasted some chocolate beetroot cake, I couldn't taste the beetroot, it only tasted of chocolate. Finally we drew some pictures of spades and tools. It was an excellent day."