Published on 18/12/16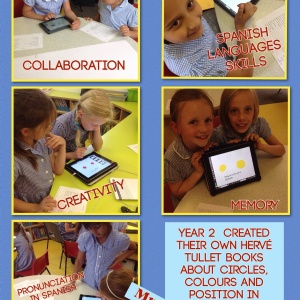 The Pre-prep have been interacting with the 'Un Libro' by Hervé Tullet with with Señorita Pérez. This translates to 'Press Here' in English. It is a fantastic text to immerse the children in a new language while interacting with the magic book. Children follow the instructions on each page and something 'magical' happens afterwards.
Once pupils were familiar with the book, Year Twos created their own versions in Spanish, taking advantage of having iPads at school. Children created their own Spanish books with the Explain Everything App. Apart from developing Spanish language skills, children were collaborating with one another, using their memory from the original book, being creative and practicing their pronunciation at the same time as recording their voices.

¡Muy bien Year 2!
Click on the clip below to see their work in action.