Published on 18/12/16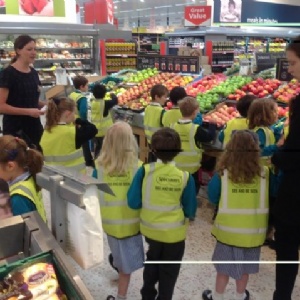 The KS1 children have been busy this week finding out about food around the world and where the food we eat comes from.
We have been visiting local shops to investigate food in our stores.
As part of our food topic the children said that they wanted to find out how far food travelled, so on our return to school we plotted on world maps where the foods came from and used the iPads to find out how far away these countries were.
Some food travelled really far!
During our trips to Morrisons and the Co-Op we looked at food in general, and were surprised to see that some foods said that they were from multiple origins! We didn't think that sounded very good, but we understood that food was checked carefully before being put onto shelves in our shops.
We then found our own baskets and selected the ingredients for our very own world fruit cake. We're very much looking forward to sampling the results and look forward to sharing pieces at home too.
All the children decided that they would look more carefully at foods from now on, to try and find foods to buy that hadn't travelled too far.