Published on 18/12/16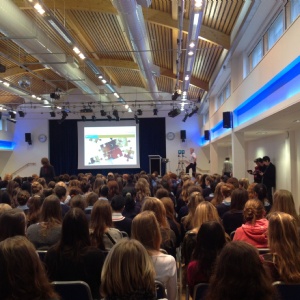 SOS Children's Villages is an international charity based very near to the Senior School on Hills Road.
The purpose of today's assembly was to launch the new long-term, foundation-wide partnership we have established with the charity to staff and students.
We were keen that the launch be announced to as many people as possible at the same time, so whilst Year 6 joined us in the SS Hall, we were also video linked to the College, and to the Pre-prep and Junior school students who had gathered in the JS Hall.
The Head Girl and Chair of the Charities Committee will visit Dame B's after half-term to deliver the same assembly there.
The charity's main focus is to provide loving homes and foster mothers to children who do have their own. The Stephen Perse Foundation will be linked particularly with a village in Chipata, Zambia, with whom we plan to exchange letters and hopefully build up a long-term relationship.
SOS is the SS Charity of the Term but we are particularly looking forward to WOW (World Orphan Week – 3rd – 7th March), during which a range of activities to both raise money and, importantly, awareness of the charity and its work will take place across all schools of the Foundation, including members of the 6th form visiting Madingley pre-prep to help with a sponsored walk, Y11 heading over to the JS to help create a book of letters, pictures and drawings to send to the children at Damview school in Chipata, and much more.