Published on 18/12/16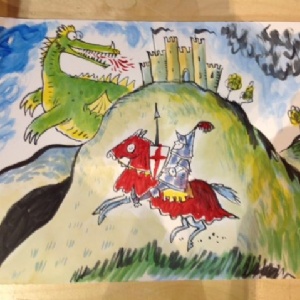 Year Two were very lucky to visit Dame Bradbury's school this week to meet the author and illustrator James Mayhew. This children have been looking at James' books in our Literacy work and have been really engaging with writing their own descriptions for different settings. They have worked hard to think of adventurous adjectives to describe and couldn't wait to share their ideas and work with James himself.
The event started with talking about James' inspiration for his stories and we found out that his sister was called Katie and he went on trips with his grandma just like in his stories! Using our microphones we asked lots of thoughtful questions, Abigail found out that it takes 6 months to make a book and Ollie checked that there were people checking for mistakes. James then treated us to a story where he spoke and drew an illustration upside down, all at the same time! We were inspired by his amazing talents. He told us that when drawing in ink you had to be brave because you can not rub it out. We then had a go ourselves. Some children used chalk, others used pastels or pencils but we all tried hard to be brave and use our light bulbs to be creative. We were thrilled that James came to share his advice during our workshops and he stopped to spend time with everyone and offer his support.
Having had a wonderful lunch at Dame Bs and of course a full experience of their playground, we returned for another story and illustration. This time we found out about a dragon and a knight called George. Again, James impressed us by being so multi-talented and we loved the gruesome bits in the story where the dragon was killed. We then had the chance to buy a book and James kindly signed them for us and he even drew each person a little picture in their book.
The Year Twos from all three SPF sites were truly inspired by James and we thank him very much for his wonderful engagement and enthusiasm with the children. They are desperate to get writing and illustrating now!