Published on 18/12/16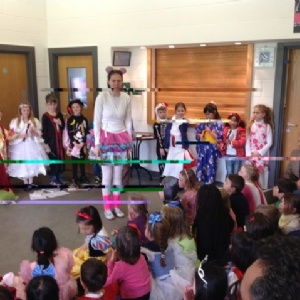 The PrePrep was busy with books as a central theme on Wednesday 28 March 2014. All the children dressed up as a favourite book character and many shared why they had chosen that story.
Many children were inspired by characters that they felt reflected their own characteristics or went on adventures.
Luckily the knights and pirates in Kindergarten could protect us from the dragons in Year Two. With at least eight Harry Potters, magic spells were flying about all day and the passion for reading across the PrePrep was obvious to all. One child decided to write her own story and then came dressed as her own character, Cowgirl Alice!
The staff shared in the fun and the children loved to see the adults dressed up too, the Matildas just had to watch out for Miss Trunchbull!
As part of our celebration of books the Madingley KS1 children performed an excellent assembly at Latham Road all about books and reading. The parents were treated to recorder playing, songs, poems and a complete word bank of new words! From now on any new creations are 'scents' thanks to Year One.
Well done to all the children involved and thank you to the parents for supporting this wonderful assembly.