Published on 18/12/16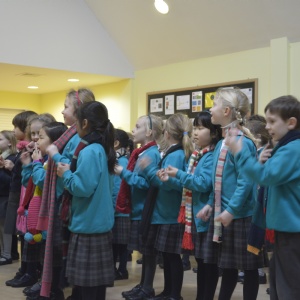 On Wednesday 5 February the Pre-prep children all joined together, from the City and Madingley, to sing and sign a song to raise money for deaf children.
In support of this event they all donated £1 and wore a scarf to sing in.
The scarves were worn as the charity's mascot, the monkey, wears a striped scarf. One of the PrePrep children kindly dressed up their own toy monkey and he came in to school to join the event too.
The PrePrep children have worked very hard to learn the song words and the signs for each part. We are pleased to announce that we raised nearly £70 to send to the charity, look out for us in the Cambridge News soon.
The children also made movies, in iMovie, to show what they did today. Please see an example of their own independent work below.
---
We also put a clip on our Tumblr page and there is a photo gallery below!
{{{photo_gallery_405}}}